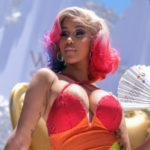 Cardi B shared a teaser for her new song "Hot Sh*t," due on streaming platforms on July 1.  The 15-second teaser scans across a city at sunset, and finds Cardi perched on top of a skyscraper. Cardi wrote in the caption of the teaser: "My new single "Hot S***" available everywhere THIS FRIDAY 7/1.  Tomorrow 8pm I got another surprise for y'all, tune in."
The upcoming track is produced by Tay Keith, who shouts his name at the beginning of the video. Cardi later revealed on social media that 'Hot Sh*t' will include two huge guest stars, Lil Durk and Kanye West. This will be the first time that Cardi has collaborated with either Durk or Kanye.  Cardi also unveiled the cover art for Hot Sh*t, showing her relaxing in a luxury car, with her eyes covered.
Cardi's last full-length project was her debut LP Invasion of Privacy back in 2018; the new song will mark her first solo release since 2021's "Bet It."
To pre-save/preorder Hot Sh*t, head here.
Editorial credit: Ringo Chiu / Shutterstock.com