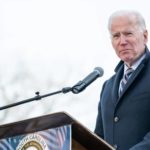 During a visit on Tuesday to Atlanta, Presiden Biden called for a change in Senate rules on the filibuster to allow Democrats to pass a voting rights bill. The President and Vice President Harris traveled to Georgia for a series of events to promote legislation designed to safeguard voting rights in an era when some states are taking action to make it tougher to cast a ballot.
During remarks at Clark Atlanta University and Morehouse College, Biden marked the recent one-year anniversary of the Jan. 6, 2021, attack on the U.S. Capitol. During the riots, supporters of former President Donald Trump attempted to prevent Congress from certifying the election in Biden's favor.  Said Biden: "Today, we come to Atlanta, the cradle of civil rights, to make clear what must come after that dreadful day, when a dagger was literally held at the throat of American democracy. They want chaos to reign, we want the people to rule. Hear me plainly — the battle for the soul of America is not over."
Georgia was one of the first states to pass stricter laws on voting after the 2020 presidential election, in which Biden carried the state. Critics have denounced the state for pandering to false claims of election fraud by former President Donald Trump.
Editorial credit: Crush Rush / Shutterstock.com