K-103.3 HD2 invites you to the 2020 Soul Food Tour February 3rd – February 28th. Featuring $5 specials with your favorite soul food items like fried chicken, collard greens, and everything in between from some of the HOTTEST local Soul Food restaurants.
Weekly Calendar:
WEEK 1:
Monday, February 3rd, 2020
Big Mouth's Burgers & Chicken
3010 Van Brunt Blvd
$5 Special
2 Wings with a Dbl Soul Burger
No Limit
Tuesday, February 4th, 2020
Fat Jack's
5912 Blue Pkwy
3 Wing Meal or 1/3rd lb Fish Meal includes fries & bread
Wednesday, February 5th, 2020
CANCELED
Thursday, February 6th, 2020
Smaxx
1827 Vine KCMO
3 strips & fries
Friday, February 7th, 2020
Ollie Pearls
9754 N. Ash KC/Liberty
off 291 behind QT
Chicken & waffle or wings & side (fries, green beans, or mac salad), and roll
---
WEEK 2:
Monday, February 10th, 2020
Jones BBQ
6706 Kaw Dr KCK
Rib tips & side or drink
Brisket on bun & side or drink
Tuesday, February 11th, 2020
Mrs. R's
720 Quindaro
KCK
Baked chicken & dressing, green beans, mashed potatoes & a roll
Wednesday, February 12th, 2020
Niecie's
6441 Troost
Country Fried steak  and 1 veg & roll
Thursday, February 13th, 2020
J's Chicken
3012 N. 27th  KCK
Friday, February 14th, 2020
Percy's
7500 Oldham Rd. KCMO
2 pc whole wings & side or
2 pc Fish & side or
3 tenders & side
---
WEEK 3:
Monday, February 17th, 2020
Big Momma's
4707 E. Bannister Rd.
lil momma sandwich, chips & cinn roll
Tuesday, February 18th, 2020
Distrikt Biskuit House
Adams Mark Hotel
9103 E. 39th KCMO
Wednesday, February 19th, 2020
Island Spice
10 W 39th St
Thursday, February 20th, 2020
J's Chicken
2831 Prospect
Friday, February 21st, 2020
Soiree Steak & Oyster House
1512 E 18th St
---
WEEK 4:
Monday, February 24th, 2020
Fannie's West African Cuisine
4105 Troost
Chicken Wings and 1/2 cup of Jollof Rice
Tuesday, February 25th, 2020
J's Chicken
5412 Prospect
Wednesday, February 26th, 2020
Brown Sugar Chicken & Donuts
3708 State Ave, Kansas City, KS 66102
Chicken and Donut Deluxe
Warm glazed donut with crispy fried chicken breast, egg and turkey bacon! With a side of tots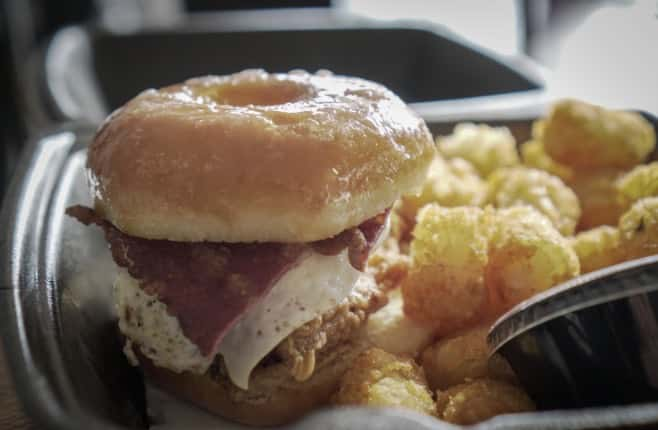 Thursday, February 26th, 2020
Peach Tree Buffet
6800 Eastwood Trafficway
Friday, February 28th, 2020
The BRGR Spot
6519 Parallel Pkwy in KCK
Juicy Loaded Cheeseburger and Drink
---
WEEK 5:
Monday, March 2nd, 2020
Lutfi's
9120 E. 350 HWY in Raytown, MO
3 pcs of fish or 3 jumbo split wings with fries, potato salad or cole slaw.
Tuesday, March 3rd, 2020
Wilson's Pizza
1801 Quindaro
**All dates, locations, and specials are subject to change at any time, without notice. Please check kprs.com and our social media channels frequently for the most up-to-date information. If you are printing this calendar, please keep in mind that you will need to print new versions with each Soul Food Tour schedule change. Locations/specials on this calendar will not be honored if the calendar is not the most current online version.